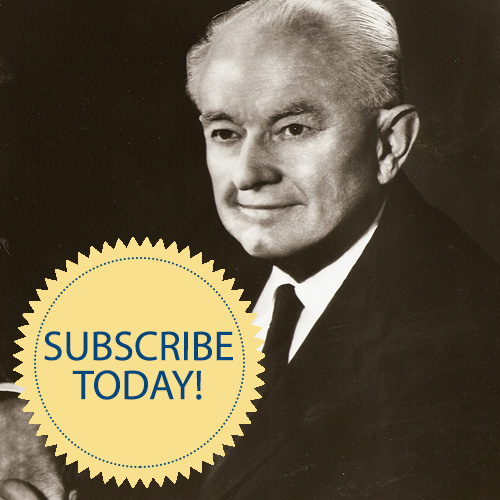 Subscribe Today and access hundreds of documents!
By becoming a monthly subscriber to the archives you will help us with our mission. And, by subscribing you will gain access to hundreds of digital download, videos, radio talks, meditations and much more. Every month we will be adding new content for you to explore.
WELCOME to the Science of Mind Archives NEW Website!
Our new monthly subscription will allow you to access hundreds–if not thousands!–of "new" pieces of our Science of Mind history for your personal spiritual evolution, as well as to use for research, class materials, Sunday talks and readings, and much, much more.  You can also simply purchase individual items, as well.  Our new site is still a work in progress, so please let us know if there are corrections or updates to be made.  Thank you for your patience.  We know you will find this website to be your one-stop resource center for Science of Mind wisdom.  Enjoy!
Our Mission:
The Science of Mind Archives and Library Foundation is a 501(c)3 charitable nonprofit organization. Its mission is to locate, organize, preserve, and share records, resources, materials, and documents that support the activities and expressions of Science of Mind®.
Our Vision:
The vision of the Science of Mind Archives is to Preserve, Protect and Present Science of Mind Philosophy and History.
Overview:
The archives and library is located in beautiful Golden, CO where we occupy a designated leased space within the international headquarters for the Centers for Spiritual Living. This facility is secure and climate controlled to ensure our precious documents and artifacts are preserved. The library has approximately 12,000 volumes of new and rare books by metaphysical authors, great theologians, and popular self-help authors. It is one of the largest collections of metaphysical books in the United States. We are constantly adding materials today…for the history of tomorrow.
Rev. Dr. Kenn Gordon at the Archives
Become an Archives Volunteer
Here is how you can help us collect and make available the complete recorded history of the Science of Mind and the complete writings of Dr. Ernest Holmes.
• Participate in the creation of a worldwide New Thought Web Library by donating New Thought books and materials that are not yet part of our collection.
• Volunteer to help us digitize precious documents. We need volunteers with computer skills and digital reproduction abilities.
• Find out how you can support the legacy of Science of Mind and New Thought with your donations and volunteer talent. Contact us by e-mail
info@somarchives.org
.
We invite you to check out our Divine Partners' Websites for more Science of Mind inspiration and spiritual resources!
Contact
Science of Mind Archives
and Library Foundation
573 Park Point Dr.
Golden, CO 80401
Kathy Mastroianni
Executive Director
720-496-1361
NOW you can listen to Ernest Holmes share his Divine Wisdom on iTunes!
From your device go to the iTunes store, search for "This Thing Called Life Ernest Holmes" (all those words) and you will find 10 albums each with two radio shows for only $9.99 each from the 1940's and 1950's.
To donate to the Science of Mind® Archives and Library Foundation click the Donate button below.