SOMM 90th Anniversary The Journey Ahead Unabridged
October 2017 Blog
By Rebecca Hiraoka and Kathy Mastroianni, RScP
As we wrap up our commemoration of the Guide for Spiritual Living: Science of Mind magazine's 90th anniversary, we explore new pathways of this teaching throughout the Religious Science movement. These powerful world ministries (and so many others) are forming the future of this organization and the next annals of the Science of Mind Library & Archives Foundation.
Due to space limitation in the printed magazine and an abundance of enthusiastic responses for information from the various ministries, the Science of Mind Archives is hosting the full, unabridged/unedited versions of all these articles–including a few new ones! There are a series of six blog articles, one on each of the following ministries: Interfaith & Multicultural, Social Justice, Emerging Leaders, Diversity, Global, and Seniors.
Be inspired! If you read about a ministry that you would like to learn about or could possibly work for your Center–reach out. Contact them. Let's share these Creative Ideas with each other to truly reveal a World That Works for Everyone–Now.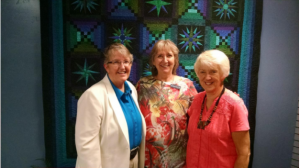 Innovative Senior Ministries!
Center for Spiritual Living Grand Junction
Grand Junction, Colorado
Senior Minister and Spiritual Director:  Reverend Patty Rumpza
Assistant Minister:  Reverend Anna Scott
Website:  http://cslgrandjunction.org/
The "Not Going Quietly Circle" at CSL Grand Junction was created through one of our members, Sharon Conklin-Starr, RScP. She was interested in providing an area of service to the Center. She saw a need for a place for seniors to share in a safe, fun environment. Penelope Tarr and Rev. Anna Scott are co-leaders of the group.
Vision: The Not Going Quietly Circle provides support for living outrageously with positive intention, and joy; living our divine birthright and dying with dignity.
As we evolve, we continue to seek out new activities that align with the interests of our group. Some of these activities are brought forth from hobbies or careers of individual members. We occasionally have guest speakers and always the key component for the group is to connect and love each other through this segment of our lives. The "check in" portion of the meeting is vitally important. We are here for one another as emotional and practical support. Together, we enjoy camaraderie and bonding.
While this group is held at CSL, it is open to the greater community and we see many people visit from outside our spiritual center. The focus of the group is not teaching SOM principles but through conversation, these teachings are organically uplifted.
This group was based on a seminar presented at Mile Hi Church by George and Sedena Cappannelli, authors of the book Do Not Go Quietly.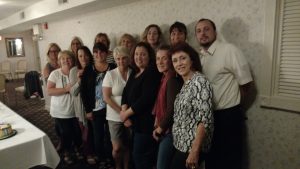 Cape Coral Center for Spiritual Living
Cape Coral, Florida
Spiritual Director:  Reverend Shell Redfern
Focus Meditation Ministry
Founder:  Barbara Gilfillan, RScP
Contact:  Bgilfillanrscp@ gmail.com
I love spending time with my aunts – one 87 and the other 81.  As a Practitioner, however, I began to perceive a pattern – a story that was centered on fear. It occurred to me I'd heard this story from many seniors, and it was an area where I could be of service.  I had discovered my Focus Ministry.
My first step was to create a series of meditation classes, and design book study groups. I sent informational flyers to all of the local senior centers, and groups were formed.  Many local seniors were introduced to meditation; the favorite reading among the book groups was The Four Agreements by Don Miguel Ruiz, and one of the groups decided to create vision boards (see photo).
From the senior centers, I branched out to a local library, a rehabilitation center and a nursing home, all groups sponsored by the hosting facility.
In 2016, planning to relocate to Florida and hoping to have my work in Rhode Island continued, I decided to hold training classes for meditation facilitators (see the picture attached of the first class). The classes were well-attended and resulted in 26 new meditation facilitators in Rhode Island. Almost all of the students came from the outer (non-SOM) community, so not only did they receive training in meditation facilitation but also in the Science of Mind philosophy.
In January 2017, I relocated to Florida.  All of my classes in Rhode Island are being covered and I have begun my Focus Meditation Ministry in my new community here in Florida.
And so it is, Amen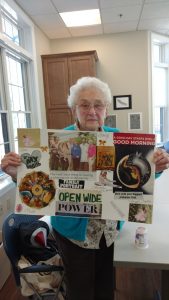 Muriel proudly sharing her Vision Board.