SOMM 90th Anniversary The Journey Ahead
October 2017 Blog
By Rebecca Hiraoka and Kathy Mastroianni, RScP
As we wrap up our commemoration of the Guide for Spiritual Living: Science of Mind magazine's 90th anniversary, we explore new pathways of this teaching throughout the Religious Science movement. These powerful world ministries (and so many others) are forming the future of this organization and the next annals of the Science of Mind Library & Archives Foundation.
Due to space limitation in the printed magazine and an abundance of enthusiastic responses for information from the various ministries, the Science of Mind Archives is hosting the full, unabridged versions of all these articles–including a few new ones! There are a series of six blog articles, one on each of the following ministries: Interfaith & Multicultural, Social Justice, Emerging Leaders, Diversity, Global, and Seniors.
Be inspired! If you read about a ministry that you would like to learn about or could possibly work for your Center–reach out. Contact them. Let's share these Creative Ideas with each other to truly reveal a World That Works for Everyone–Now.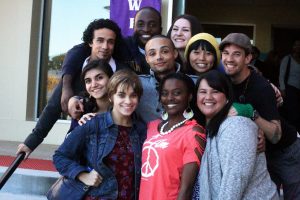 Inspired Emerging Leaders Ministry!
Spiritual Living Center of Atlanta: Kinetic Ascent
Atlanta, GA
Senior Minister: Reverend David Ault
Staff Ministers: Reverend Avon Drummond, Reverend Susan Zoller
Kinetic Ascent Founders: Dana Robinson, Ryan Schrock
Website: http://slc-atlanta.org/kinetic-ascent/
Kinetic Ascent was created by two young adults at the Spiritual Living Center of Atlanta (SLCA) named Dana Robinson and Ryan Schrock. We were in the Self Mastery class together. There were approximately 40 or more people in the class and only 3 young adults. During one of the classes, a comment was made about it being so "nice to have young people participate" in the class. I was caught off guard, because it seemed like we were being viewed differently, and it was uncomfortable for me. I asked Reverend David Ault if SLCA had a young adult group where likeminded young adults can come together and talk about our experiences without being viewed as "others". Long story short, my discontent became an opportunity to build what I desired. Ryan's reason for creating the group is similar. He wanted to create a space of support where we can have an honest dialogue about our lives and build community. So, Ryan and I were given the opportunity and supportive space to start a young adult group which we later named Kinetic Ascent.
My vision for Kinetic Ascent is an international community of conscious, spiritually sound young adults who are change makers around the globe. It's not just about the Spiritual Living Center of Atlanta or the Centers for Spiritual Living, for that matter. This movement is a worldwide movement that not only believes in harmony, but demonstrates a thriving world for all.
For all the Centers who believe they are having a hard time "keeping" or "building" their young adult population, changing your thinking. Many young adults innately resonate with this teaching.
The only action that needs to be taken is self-examination or an organizational self-examination.  
        Examine your thoughts about this "generation".
        Examine if you really are embodying these Universal principles or if you are just reciting the lingo and following a null pattern.
        Examine your intentions. Do you want to increase the number of young adults to "save" your Center, or do you really want to educate, demonstrate, and serve?
        If you do have a young adult ministry already, are you policing them or allowing them to flourish organically?
I would like to see Kinetic Ascent connecting with young adults at other Centers and growing into a national community, then organically growing into an international one. In some ways, Kinetic Ascent is already expanding into other Centers because some of us have been guest speakers at Centers around the United States.
I would love for more Centers to have Young Adult Sundays where their young adults run the show (Guest speakers, musical guests, greeters, ushers, etc). Kinetic Ascent has done this at SLCA for the past three years, and it has been very successful. Kinetic Ascent would gladly facilitate this type of event at other Centers.
Kinetic Ascent itself cannot be replicated, but what I KNOW is the POWER OF INTENTION and having a purpose. Our group was created with an intention to serve, connect, and build a loving and safe community where the members can grow. I really believe that if this not the intention or reason for the young adult ministry at other Centers, then it is not in alignment with who we are.
Responses from:
Dana D. Robinson, Co-Founder of Kinetic Ascent at the Spiritual Living Center of Atlanta