SOMM 90th Anniversary The Journey Ahead Unabridged
October 2017 Blog
By Rebecca Hiraoka and Kathy Mastroianni, RScP
As we wrap up our commemoration of the Guide for Spiritual Living: Science of Mind magazine's 90th anniversary, we explore new pathways of this teaching throughout the Religious Science movement. These powerful world ministries (and so many others) are forming the future of this organization and the next annals of the Science of Mind Library & Archives Foundation.
Due to space limitation in the printed magazine and an abundance of enthusiastic responses for information from the various ministries, the Science of Mind Archives is hosting the full, unabridged/unedited versions of all these articles–including a few new ones! There are a series of six blog articles, one on each of the following ministries: Interfaith & Multicultural, Social Justice, Emerging Leaders, Diversity, Global, and Seniors.
Be inspired! If you read about a ministry that you would like to learn about or could possibly work for your Center–reach out. Contact them. Let's share these Creative Ideas with each other to truly reveal a World That Works for Everyone–Now.

Powerful Social Justice Ministries!
Center for Spiritual Living-DC
Washington DC
Senior Minister: Reverend Alex Escudero
Associate Minister: Reverend Dr. Raymont Anderson Interfaith Minister
Website: http://csldc.org/
Social Justice is an integral part of our vision of a world that works for everyone. The need that birthed this ministry is the same need that birthed our Center: the need for a safe place in the U.S. capital for spiritual seekers from all walks of life to gather and commune.
The need was birthed as a proactive Principle-based response to acts of racism, sexism, homophobia, Islamaphobia, xenophobia, autism, and more. Paraphrasing the words of Einstein who said a "problem" cannot be resolved at the level of consciousness that created or sees the "problem," our social justice ministry is shifting that consciousness so the "problems" are met with the revealed Truth which heals.
We are shifting how we respond to the very real and visceral pains felt by our community with each act of "murder" "abuse" and "injustice."
We are shifting how we stand as a Center and representing the Truth principles we teach, believe, and practice so that our philosophy is one of true application and not quaint statements uttered by rote from a paradigm of metaphysical malpractice.
We are shifting how we show up as individual metaphysicians who are citizens of the planet walking the walk.
In the SOM text Ernest Holmes tells us "It is quite a burden lifted when we realize that we do not have to move the world – it is going to move anyway. This realization does not lessen our duty or our socialobligation. It clarifies it. It enables us to do joyously, and free from morbidity, that which we should do in the social state." [p. 270]
A world that works for everyone!
To be a transfigured catalyst that uplifts consciousness in the U.S. capital and by doing so, reveals the Truth that New Thought  teaches, becoming a major tool used in making this a world that works for all.
Ongoing visioning to continue to prioritize where we will put our efforts. There are many good people in our area already doing great things for peace by working for justice. By prioritizing and focusing we know we can have a greater impact. Visioning and dialog helps us to get on the same page as a community about the meaning of social justice.
Greater presence in the DC metro area.
Regular meetings and discussions within our CSLDC community and also opening select forums, panel discussions, classes, etc. to the greater community as well.
Continuing to stand in Truth as unapologetic visionaries in a community that is a sanctuary for people to know that one person can make a difference and a united community can shift consciousness for peace and justice.
We believe that there are universal human rights that should be embraced by our movement as a whole. The Universal Declaration of Human Rights adopted by the UN General Assembly in 1948 is a good place to start. As our movement becomes more global we do well to look beyond what is going on just in the U.S.
Most of our Centers are in the U.S. as is our headquarters. At the Center for Spiritual Living DC go beyond a U.S. – centric view of the world. Our Spiritual Director has family roots in Colombia and has lived in Africa as well as Central and South America. Two of our Practitioners are from Caribbean nations and one of our Practitioners is from Germany. By networking with people already in our movement who do this work in other countries we enrich our work here in the U.S.
Centers for Spiritual Living has a Diversity Commission leading the organization's efforts in developing plans and programs for attracting and retaining a diverse population in its communities and CSLDC continually draws on the resources of the Commission. Our movement also has a Global Services Committee supporting individuals and groups around the world in bringing the Science of Mind and Spirit to their area and connecting communities with each other.
Diversity and inclusivity are fundamental to social justice and we do all that we can to make welcome different voices at our Center, voices that share our values of respecting the environment, the Earth and all her creatures. We have collaborated with American University to host events to educate about Islam. Our youth created a video at summer camp sharing their experiences growing up Black and Latino in the U.S. Our Associate Minister brings sign language and his experience working with deaf communities to our services and our Senior Minister often speaks in Spanish.
There is always more to be done and we are inspired by other Centers and people also engaged in this sort of work, such as Rev. Dr. Rebeka Piña's work throughout Latin America; David Ault's work in Cambodia and now India; CSL Dallas's Circles of Life, and the Authentic Voices reader's theater of the Sacramento Center for Spiritual Awareness.
Our Center participated in the Women's March on Ernest Holme's birthday as a contingent for peace. We wore purple hats with our logo and were making a statement for social justice rather than against a political viewpoint. We also are active on LGBTIQ issues, and speak up for Black, indigenous and immigrant lives. The Sunday message is grounded in principle and also relevant to current issues facing congregants.
As a truly diverse community we are uniquely positioned to not only demonstrate how diversity and inclusion work but we can also assist in the facilitation of those "challenging" conversations that need to be had in order to truly grow as a movement for social justice.
This ministry can be replicated by way of seminars, webinars, classes, where small groups begin to engage one another and take the "Soul" food that is produced in these sessions and use it to nourish the greater communities.
If love, communication (including listening), compassion, empathy, and the True teaching of New Thought can be replicated then YES this social justice ministry can be and must be replicated.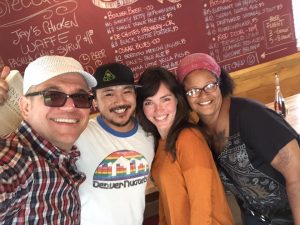 Albuquerque Center for Spiritual Living
Albuquerque, New Mexico
Senior Minister: Reverend Kylie Renner
Assistant Ministers: Reverend Andrew Groves, Reverend Masando Hiraoka, Reverend Amani Malaika
Website: http://abqcsl.org/
"I'm realizing that I am uncomfortable that "Social Justice" has become a "thing." People have actually said to me that it is so great that it is my "thing." As if caring for the community I am part of is an option, and it is ok for it not to be their "thing."
I had no intention that by putting a budget and focused leadership behind something that was informing everything that we were doing, that we would get attention as something different or special. Spiritual communities have long been a place that have stood for allowing spiritual values to be represented in the way we care for each other, and we are certainly not doing anything new..Social justice isn't just a "ministry" of our community, and can't be isolated, but is instead is the organic out-picturing of how we are applying the principles of oneness and inclusion.
I am working with the Association for Global New Thought  to create portable models that resonate with specific issues within communities. We are creating a process for communities to first identify the issues that are affecting their communities, understand the New Thought theology that supports taking action and what type of action, and then helps identify programing/partnerships that are sustainable based on the engagement of the community." Senior Minister Reverend Kylie Renner
"Albuquerque Center for Spiritual Living has a long practice of caring for each other well fostered by Senior Minister Rev Kylie Renner, Assistant Minister Rev Drew Groves, Assistant Minister Rev Amani Malaika and other community leaders. New Mexico has one of the highest rates of poverty in the nation so we are particularly aware of the systemic struggles that our greater community faces. I joined the team as an Assistant and Social Justice Minister a year ago and we are committed as a community to exploring how we can marry social justice frameworks with our principles of oneness, inclusivity, and love in all that we do at ABQ CSL. Our Social Justice ministry has programmatic aspects and it is primarily a paradigm through which we seek to be in community together at our Center as well as in our greater Albuquerque community. We seek to have this paradigm inform how we show up in our arts and music classes, which are very central to our community, in our classes, our talks, our relationships with other businesses, non-profits, and other faith communities that we work with as a Center,  and the other ways that we come together in community.
The guideposts of our Social Justice ministry are:
Relationships: True justice work, in seeking not just to treat the symptoms, asks us to come into relationship with the communities and people around us. We are not here to save people or foster uneven power dynamics. Through building safe and communicative relationships we come to a deeper understanding of the systemic roots of supremacy we are seeking to alleviate and build greater kinship with people and communities.
Practicality/Sustainability: We ally with powerful community partners across many sectors of society and within many different faith traditions that are focused on impact and sustainability in increasing wellness and healing economic, racial, gender, sexuality, ability, and all other forms of injustice in our communities.
Education: Practicing spirit led social justice principles asks that we be committed to continued learning from each other and community experts so that we can be in a greater state of Oneness and know how to ethically impact change. We believe that learning together is an integral part of the process to healing the ways that injustice and supremacy show up in our world on a very local level as well as a global level. We are currently in process of writing class curricula for a class that marries Religious Science teaching, Global Faiths, and Social Justice.
Creating an environment where everyone can grow:  This is the foundation of our ministry.  We are seeking to create spaces where every person is seen as whole and where all voices are heard. In this space we can grow and thrive together."
Rev Masando Hiraoka, Assistant & Social Justice Minister