SOMM 90th Anniversary The Journey Ahead Unabridged
October 2017 Blog
By Rebecca Hiraoka and Kathy Mastroianni, RScP
As we wrap up our commemoration of the Guide for Spiritual Living: Science of Mind magazine's 90th anniversary, we explore new pathways of this teaching throughout the Religious Science movement. These powerful world ministries (and so many others) are forming the future of this organization and the next annals of the Science of Mind Library & Archives Foundation.
Due to space limitation in the printed magazine and an abundance of enthusiastic responses for information from the various ministries, the Science of Mind Archives is hosting the full, unabridged/unedited versions of all these articles–including a few new ones! There are a series of six blog articles, one on each of the following ministries: Interfaith & Multicultural, Social Justice, Emerging Leaders, Diversity, Global, and Seniors.
Be inspired! If you read about a ministry that you would like to learn about or could possibly work for your Center–reach out. Contact them. Let's share these Creative Ideas with each other to truly reveal a World That Works for Everyone–Now.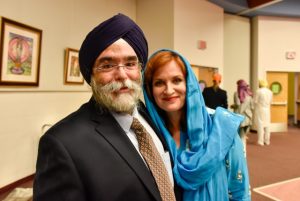 The Oneness of Interfaith & Multicultural Ministries
Mile Hi Church
Lakewood, Colorado
Senior Minister:  Reverend Dr. Roger Teel
Associate Minister and Interfaith/Multicultural (I AM) Minister: Reverend Shannon O'Hurley
Website:  https://www.milehichurch.org/Ministries/Interfaith-Multicultural-I-AM-Ministry
I believe that the New Thought movement has had a need for multi-faith engagement and bridge-building between the faiths for a very long time. Interfaith/Multicultural work deepens us in our own faith and understanding of the world.
When we can celebrate the great faith paths and world religions, we learn from their ancient wisdom. This grows us in our own spirituality and our compassion for others. And our experience of Oneness is elevated to a whole new level.
Our Vision
A world that peacefully honors and embraces all people and spiritual paths.
Our Mission
We raise conscious awareness by creating conversations and facilitating understanding across religious and cultural traditions through education, outreach, multicultural events and service opportunities.
I have learned that Interfaith/Multicultural work and Interreligious dialogue is often the precursor to what I like to call "Spirit-led social action." There is so much going on in the world right now. And in order to create a world that works for everyone, a big part of this is engaging in dedicated, rigorous Interfaith and multi-cultural education in order to create a solid bridge of respect and deep reverence for one another.
Each Center has its own unique needs. I encourage visioning and a clear awareness of what those needs are. While I have a model that I have found works for Mile Hi Church, that may not be the same for other centers. I encourage folks to check out our I AM (Interfaith And Multicultural) services on our website, and see if it resonates.
In addition to our Interfaith services we also do many "field trips" to other houses of worship. We have gone to Friday prayers at an Islamic Temple, to services at our local Gurdwara (Sikh temple), we have visited a Self-Realization fellowship temple and so many more. I have found that education as well as a visceral experience of another tradition are key.
Even the most well-meaning among us, can inadvertently and often unconsciously create an "us and them" mentality.  Through Interfaith/Multicultural work, we eliminate the "Other." Thus, we step into the Universal Principle of Oneness in an even greater, lasting and profound way.
I believe that as we evolve as members of this One human family, our Movement is also evolving. I see the natural evolution of New Thought moving into a place of great service to others and the world. This is where we put Love to our feet. The great Rabbi Abraham Joshua Heschel once said, "When I marched in Selma, my feet were praying."
This is that. It's our turn.
We must now take this beautiful teaching of Oneness and be the voice for those who do not have a seat at the table. We must take a stand for human dignity for all. And this starts with humbly opening our hearts fully to the "Other." Ernest Holmes said, "Oneness is not sameness." We have a great opportunity to honor our Oneness and celebrate the glorious differences of our sisters and brothers.
I believe this is what it means to walk the Spirit-led life, to be truly open at the top and to be a person of faith.